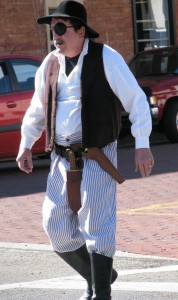 If you're looking for some great things to do this weekend in Jefferson Texas there are some fine attractions to visit and join in on.
On Friday and Saturday the Rail of Lights Christmas Train will be taking you out along the bayou with very creative scenes along the way.
All of your favorite antique shops will be open just so you can hunt down the perfect gift. The restaurants will surely be serving up some great grub when you need a break from the shopping and visiting the regular tour homes.
On Saturday, in the downtown area look historic Jefferson characters such as Kate Woods, Jesse Robinson, Bill Rose and Diamond Bessie as portrayed by the Jefferson Riverport Ambassadors. They stroll along the streets ready and willing to answer any questions you may have about Jefferson Texas. This particular day there will be Ambassadors located at the Historic Homes of House of the Seasons, Singleton's Virginia Cross and the Charles House.
Friday and Saturday is a great time to take the famous Ghost Walk Tour or relax in a narrated horse-drawn carriage and see the lovely lighted displays all around town.