One of the most requested recipes that the guest's at the White Oak Manor bed and breakfast in Jefferson Texas ask to take home is our Apple Brandy Sauce that we use on a couple of breakfast menus. It is a yummy sauce that is not to sweet tasting even though it is made with powered sugar.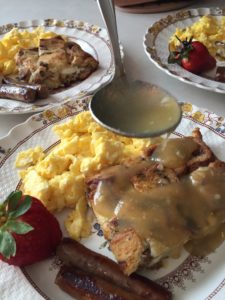 Today we are sharing our Stuffed French Toast with the Apple Brandy Sauce recipe.
Stuffed French Toast
1   loaf cinnamon raisin bread 1-1 1/2 lbs.
10 eggs
1   teaspoon baking powder
1   8 oz. cream cheese
2   cups milk
1/4 cup maple syrup
6   tablespoons butter, melted
Cube bread and layer 1/2 in a 9×13 baking dish. Cut cream cheese into 16 squares, flatten squares and scatter across bread. Cover with remaining bread cubes. Mix eggs, baking powder, milk, maple syrup and melted butter. Pour egg mixture over bread and press cubes down to soak egg mixture. Cover with plastic wrap and refrigerate overnight. Bake at 350 degrees covered with foil for 30 minutes uncover and continue to bake for 20-30 minutes longer. Serve with apple brandy sauce.
Apple Brandy Sauce
1 1/4 cups powdered sugar
6   tablespoon butter
1   large egg, beaten
2   tablespoon Brandy
2   tablespoon Apple juice
In a saucepan, combine all ingredients. Cook over low heat, stirring constantly, until thickened about 5 minutes. Serve warm over French Toast.
Enjoy!