Around here one store that should be a "Must See" while staying at a bed and breakfast in Jefferson Tx is the Beauty and the Book on Polk Street.
Even if you're not an avid reader you'll love the store. Kathy offers new books, jewelry and hair styling all in one place.
Kathy L. Patrick is the founder of the Pulpwood Queens book club, the largest book club in the country with clubs all over the United States. On book club night it's time to get out the pink shirt and tiara and get together with friends for great food, visiting and discussing the newest book selections.
Every year for the past 11 years one event is the highlight of belonging to this very energetic group is traveling to Jefferson Texas for the weekend to be a part of the Annual Girlfriends Weekend. The event is held at the Jefferson Tourism and Transportation Convention Center.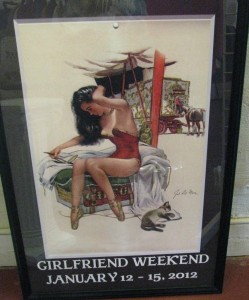 This year's Girlfriend Weekend is Jan. 12 thru the 15, 2012 with a Circus theme. The fun starts Thursday Night with a dinner where you are the guests and book Authors serve you dinner. How much fun does that sound like?
Friday begins with authors forums and luncheon then put on your Pink Prom party gowns and get ready to party like it's 1999 (he he he). At the "Pretty in Pink" prom party one person is picked for the title of PROM QUEEN, so make sure to be the Pinkest belle at the ball.
Saturday more fun with authors and lunch, in the evening get ready to really put your party hats on. Saturday night is the grand finale Circus themed "GREAT BIG BALL OF HAIR" ball, the biggest costume ball around.
For more information please visit Beauty and the Book.