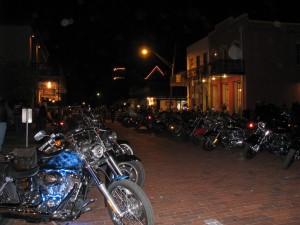 Bikes lining Austin St. Jefferson, TX. photo by Tammy Doriot
Today we walked downtown to see all the motorcycles that are here in Jefferson, Tx for the 14th annual Boo Benefit. I can't pretend to know exactly every organization that is benefited by this event so I'll let you read it for yourself. I do know that most of the people who help with this event do it voluntarily so that more money can go to the organization.
While we were walking around town we also stopped into quite a few shops that we hadn't had a chance to visit yet. Then we walked around the courthouse and picked up a bite to eat and shop at all of the tents. I have to say the heady sent of leather in the tents with all the chaps, pretty feminine vests, saddle bags and a number of other biker gear was soothing. Need I say that the music all over town was fun!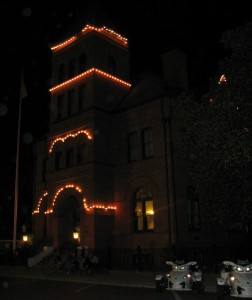 Jefferson Museum. Photo by Tammy Doriot
This evening we decided to go back downtown to see what else was going on and we found a great band and people enjoying the warm autumn evening. It's so nice to see everyone out and about having fun.
We even spotted Boo signing posters in the Russell building where the silent auction was taking place.
The bikes lining the street were just as spectacular under the street lights as they were in the daylight, in some cases even better. The most colorful ones had some kind of light by the engine that lit them up in green, red and blue.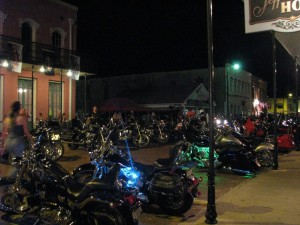 Our bed and breakfast guests this year were so happy to stay that they all booked their rooms for next year. That after all is the something magical about the Boo Benefit, most of the same people come every year to show support and give all they can for this great cause.
To read more about the Boo Benefit, visit the site.