Welcome to Our Jefferson, Texas Bed and Breakfast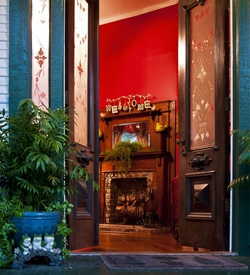 Your innkeepers, David and Tammy Doriot, relocated to Jefferson, TX when they bought the White Oak Manor bed and breakfast in June of 2011. While searching the country for the perfect small town to call home, Jefferson charmed them and was just what they had been looking for.
During the eight years prior to arriving in Jefferson, the Doriots honed their innkeeping experience by acting as operating managers of three unique places. The first was a family hotel with a small breakfast cafe, they then moved to a large bed and breakfast serving dinners three nights a week. Both of these Inns were in the small coastal town of Westport, Ca.
The Doriots then moved to a bed and breakfast across the country in the East coastal town of Carolina Beach, NC to run the inn.
A favorite part of traveling for the Doriots is staying in unique inns and bed and breakfasts. Due to their extensive experience as inn guests, they understand bed and breakfasts from the guests' point of view. This has helped them perfect their hosting skills. Their goal is to pamper you from the minute you arrive, ensuring your stay is only the best.
Life Before our East Texas Lodging
Before becoming innkeepers, David worked for an International Drilling Co., and Tammy worked from home while raising their daughter. During those years, David traveled from town to town in most of the western states. One day Tammy decided to join him on the road. They sold their house and moved into a large travel trailer, so that they could both travel together around the country and be at home at the same time.
Spare Time at Our Jefferson, Texas B&B
Tammy is an avid quilter and photographer and loves to make scrapbook pages and homemade cards. She also likes decorative painting and trying new recipes for breakfast.
David enjoys picking up his guitar and singing in the evenings. He is an accomplished hunter and fisherman and loves to find new fishing holes. David also happens to be your breakfast chef, and he takes great pride in the delicious meals that he makes for our guests.


White Oak Manor Bed and Breakfast Policies
[View Inn Policies…]
Reservation deposit: All reservations made by phone, email, or online are charged a 50% deposit including taxes at time of booking.
Cancellations: A $50 fee per room will be charged for all cancellations.
Refund of Deposit Policy: Refunds of deposit will be made if cancellation notice is received at least fourteen (14) calendar days prior to arrival date. If less than fourteen days and we are able to re-rent the room, a refund will still be extended. Cancellations must be made by speaking to the innkeeper.
Early Departures: While we sympathize with unforeseen circumstances, once you have checked in, the room is no longer available to rent therefore no refunds will be given.
No-Shows: If you have a confirmed reservation and you do not arrive
Gift Certificates: Gift Certificates towards your reservation still require a deposit on the balance, paid with a valid credit card upon reservation, and are subject to all cancellation policies.
Business Travelers: We offer special midweek rates and policies for our business travelers. Ask the innkeeper. We will be happy to help you have a comfortable stay while completing your business in the area.
Visitor Policy: The White Oak Manor is a very private place for rest and relaxation. Use of the room/suite areas is reserved exclusively for our registered guests. Please, no visitors to guest rooms and/or suites.
Group Reservations: Any groups of 3 or more room/suites must reserve all available rooms/suites at the White Oak Manor. Refunds of deposit will be made if cancellation notice is received at least thirty calendar days prior to arrival date. Cancellation policy applies. If less than thirty days and we are able to re-rent the rooms, a refund will still be extended.
White Oak Manor Bed and Breakfast House Rules
The White Oak Manor is Smoke-Free. We have designated outside smoking areas for guests. A $200 fee will be charged if you are smoking in the house, and you will be asked to leave without a refund.
There are two small dogs on the property; therefore we cannot allow other pets to stay in any of the rooms.
The White Oak Manor bed and breakfast is not responsible for theft or damage to personal property.
Rates are subject to change.Rates are for one or two people and include a full gourmet breakfast.
A two-night minimum stay is required on all major holidays and holiday weekends throughout the year, including special event weekends.
Check-in is between 3:00 pm and 5:00 pm. If arriving outside of check-in times, please call to make arrangements.
Checkout by 11:00 a.m.
Rates/Policies are subject to change and vary during high impact periods and special requests.
Children over twelve years old are welcome at the inn, as long as you are comfortable having them stay in another rented room. All rooms are rated for 2 people maximum occupancy. No sleeping bags or cots can be brought in to rooms. We are unable to accommodate children under twelve.
Items left behind: Regular items left behind require you to contact us for returns. We'd be happy to put it in the mail back to you for a flat fee of $20.00. (Larger items will incur extra charges.)