Plenty To See and Do During Your East Texas Vacation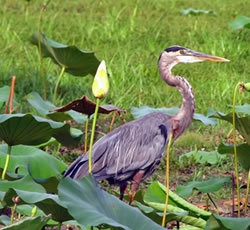 Our East Texas area boasts many attractions to keep you busy during your stay here: two lakes within a few miles, museums, antique shops, restaurants, historic buildings, carriage rides, boat tours, and even a ghost tour — just to name a few.
To make it easier on our guests we have compiled a more complete list of all the "Things To Do in Jefferson" on our resources links page HERE. This list also includes local restaurants and wineries so you can decide ahead of your arrival date what you might like.
Visit Nature in the Piney Woods of Texas  [Read Details…]
Nature awaits you at Caddo Lake, where you'll feel like you have stepped into the heart of the Bayou with the Cypress trees dripping with Spanish moss surrounded by blooming lily pads and water birds of all kinds. The Graceful Ghost Paddle-Wheel Steamboat tours along the waterways of the mystically magical Caddo Lake. Caddo Lake offers a wealth of eerie-looking trees draped in Spanish moss with the waters dressed in lily pads and birds aplenty.
Caddo Lake now offers some beautiful Canoe and Kayaking trails, map and trail distances can be found on our blog HERE.
Lake O The Pines is just west of town, where you might spend a lazy afternoon picnicking and swimming.
Ride the Historic Jefferson Railway  [Read Details…]
This Jefferson, Texas train lets you experience the "Golden Era" of Steam railroading. The Jefferson Railway's Old Engine #7 takes visitors on a 40-minute long trip through the Piney Woods along the Big Cypress Bayou, rolling past historic sites and towns in east Texas. Hear the steam blow, and experience the sounds and stories of the old west as you go back in time to an earlier time. "Ghost Train" rides are available in the evenings, featuring some of the area's spookier legends. You can also reserve your spot in the "Engineer For A Day" class to learn how the engine runs and be part of the 3-man team to become the Engineer, Fireman, and Switchman for part of the day!
Other East Texas Attractions  [Read Details…]
Turning Basin Riverboat Tours takes you along the Big Cypress Bayou, where you'll learn about Jefferson's past as an important river port during its heyday. This hour-long tour teaches about the plants and animals that live along the Bayou and shows Jefferson from the river point of view, much as the passengers would have seen it from the boats long ago.
The Jefferson Historical Museum offers four floors of exhibits ranging from old-time tools and equipment to beautiful art. The lovely old building has something for every history enthusiast.
These are just a few ideas for your visit to Jefferson. Our knowledgeable innkeepers can offer even more ideas and directions, depending on your interests.