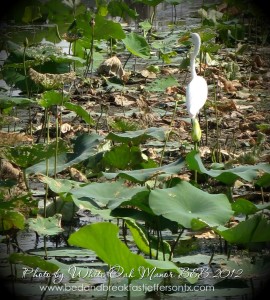 Paddling on these Canoe and Kayak trails is an excellent way to see all the beauty of this unique East Texas Lake. A pleasurable slow cruise through the Cypress trees dripping with Spanish moss is a personal journey enveloped by nature. While Snowy Egrets and Great Blue Herons fly overhead all the while beavers and fish try to hide from view. Depending on the time of year you'll see beautiful lotus blossoms floating atop their bright green pads or you might see their distinctive seed pods standing tall above the waves.
With 10 paddling trails equaling over 50 miles of marked kayak and canoe trails on Caddo Lake and the Big Cypress Bayou you will find more bayous, swamps and sloughs to bring you back over and over just to see more. Please make sure to abide by the water rules of safety while you're having fun.


View East Texas Canoe-Kayak Trails at Caddo Lake in a larger map
There are quite a few places to put your kayak or canoe in the water. This year they put up some really nice colorful markers that are easy to see clearly so you can paddle around and know where you are.
Listed below are the access sites to begin your adventure to the canoe and kayak trails around Caddo Lake and the Big Cypress Bayou. To learn about these trails please visit the Texas Parks & Wildlife Paddling Trails website.
Access the following paddle trails from Backwater Jack's RV Park Put-in and Take-out: GPS Coordinates (DD): 32.71136, -94.22906
Benton Lake Paddling Trail (Big Cypress Bayou) 2.4 miles roundtrip
Clear Lake Paddling Trail (Big Cypress Bayou) 2.9 miles roundtrip
Haggerty Creek Paddling Trail (Big Cypress Bayou) 5 miles roundtrip
Mill Pond Paddling Trail (Big Cypress Bayou) 7.2 miles roundtrip
Old River II Paddling Trail (Big Cypress Bayou) 3 miles roundtrip
Carter's Chute Paddling Trail (Caddo Lake) 7.6 miles roundtrip access is at FM 805 – Caddo Lake Wildlife Management Area at the Canoe/Kayak Launch (entry by permit only). GPS Coordinates (DD): 32.73919, -94.16671
Shady Glade Resort boat launch (launch fee applies) GPS Coordinates (DD): 32.71270, -94.12024 is the access point for Cathedral Paddling Trail (Caddo Lake) 3.8 miles roundtrip
Hell's Half Acre Paddling Trail at Caddo Lake is 8.8 miles roundtrip, access is at the Caddo Lake State Park – Mill Pond Canoe/Kayak Launch. GPS Coordinates (DD): 32.69200, -94.18000
Crip's Camp boat launch (launch fee applies) is the put-in and take-out point for the 4.9 miles roundtrip
Old Folks Playground Paddling Trail (Caddo Lake) GPS Coordinates (DD): 32.70242, -94.12227
4.6 miles roundtrip Paddling Trail – Turtle Shell on Caddo Lake; Put-in and Take-out: Johnson's Ranch boat launch (launch fee applies) GPS Coordinates (DD): 32.70755, -94.11843
While planning your paddling excursion make sure to spend the night in Jefferson Texas at the White Oak Manor B & B, that way you can get a good night's sleep and a delicious breakfast the next morning.

Tammy & Dave Doriot