You will enjoy four destinations throughout downtown for the 6th Annual Jefferson Texas Train Days. This is a wonderful family event or for train enthusiast of all ages.
Saturday May 20, 2017 – 10 AM to 5 PM
Sunday May 21,2017 –  11 AM to 4 PM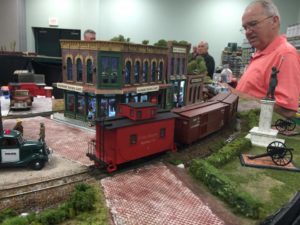 Jefferson Train Show at the Visitors building where you can watch beautiful operating model train displays and layout s and visit with model railroading club members. You will want to peek inside of a few of the buildings on display and see the miniature details inside. And then see the tables of trains, parts and accessories for sale.  You'll be sure to find something special from the vendor's onsite. Admission $6. Children under 6 FREE. Then step outside and you can then watch the Stem Whistle blowing, it is a hoot. Pun intended!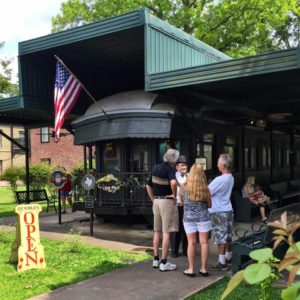 Now travel into downtown and take the tour of the fantastical "Atalanta" rail car. You will be entertained by one of the marvelous tour guides that will take you back to the days when good old Jay Gould came to town in his resplendent business car. Admission $5. Children under 12 FREE
Next walk a half a block to the R.D. Moses Model Train and see model of the Texas & Pacific Railway in West Texas in the 1950s. Incredibly realistic scenery and details. Again, you will want to peek inside the windows. Admission included w/ Train Show Ticket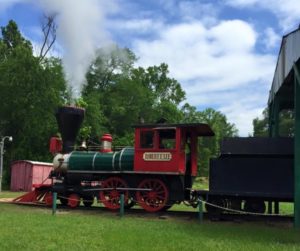 Then travel through town again to the Jefferson Historic Railway for Steam hissing, whistle blowing and pistons chugging, the live steam train recreates the golden era of steam railroading with a historical tour along the beautiful Big Cypress Bayou. Enjoy rough and ready cowboys aboard the train, complete with cannon, gunfights, and a train robbery, on every train.
Admissions $15 lap children FREE
Trains departures   Saturday at 12:30, 2:30 and 4:30 AND Sunday at 12:30 and 2:30
New this year on Sunday May 21, 2017 is an old-fashioned Sunday Social at the General Store on Austin Street in downtown Jefferson.  Purchase a root beer float, nostalgic candy and one-of-a-kind souvenirs.  Gunfights in the street; strolling musicians, Riverport Ambassadors in period dress and a band make this an event you will want to see! 12noon to 2:30pm
4 Destinations – Visit One or All —  Discounts for Visiting Multiple Venues — Combo tickets Available Online. http://www.jeffersontraindays.com/
There will be plenty of time to participate in the Jefferson Train Days & Model Train Show.  Combo Tickets available online for all four destinations:  Jefferson Train Show, T&P Model Train Depot, Jay Gould Car and Historic Jefferson Railway.
Tickets available at each venue during event weekend.
For full event schedule or call 866-398-2038 or 903-665-2775 for more information,  info@jeffersonrailway.com