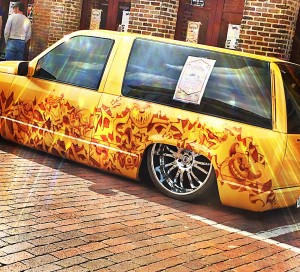 Jefferson Texas is home to the Outlaw National's car and rod show event every year in April. This year is going to be a bit extraordinary. There is going to be an open car show. If it runs, bring it!
April 15, Friday Early registration from 3PM to 8PM at Auntie Skinner's
April 16, Saturday Breakfast served from 7-10AM  show day registration at Otstott Park on corner of Vale and Lafayette Street's. Then at 6PM the Auction begins at Auntie Skinner's followed by dancing to live music at 9PM.
April 17, Sunday Breakfast served from 7-10AM morning Church Service then show and shine and awards ceremony at Otstott Park.
We really can't wait to see what this year brings for cars, we could be looking at a very fun show with the Open show. Imagine seeing some fabulous new cars gleaming in the sunlight parked on Jefferson's historic brick streets. As always there should be plenty of old vintage cars ranging from fabulously restored cars and trucks to Rat Rods and even some antiques that are just very well loved and used with no restoration. But the joy of this car show is just looking at all the details you just can't find on new cars, like those shiny chromed bumpers or seeing your reflection in those highly polished paint jobs. When you gaze into those tucked leather interiors and see all the leg room they had and head room, you just can't help but be envious of days gone by.
We love to celebrate America's love affair with the automobile as some 250 classic autos, muscle cars and street rods are displayed in downtown. The day's events include entertainment, auction, show and shine, awards and all those smiling faces as they come across a car that brings back some precious memory.
For registration and information visit the Outlaw National Car Show of Jefferson or contact outlawnationals@yahoo.com OR Michelle Fox-Davis  903-665-7121, auntie.skinners@aol.com  The car show is a great fundraiser for the Percy Johnson Burn Foundation & Children's Camp.
Oh, and while you are looking for information about the car show you might consider booking your Jefferson TX bed and breakfast reservation so you'll lay your head on a comfy pillow each night.