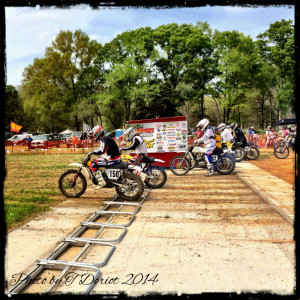 Diamond Don's 13th Annual AHRMA Vintage National Motocross will be held April 16-19, 2015 at Diamond Don RV Park located one mile from Jefferson, Texas. The events include Charity Fishing Tournament on Thursday, Cross Country and Trials on Friday, Vintage Motocross on Saturday with Post-Vintage on Sunday.
David and I were in awe when we arrived at the track last year. The excitement of racing was evident from the time we walked over to the track. We watched some races, visited the vendors and really, really enjoyed the "Legends of Racing" truck with all the bikes, racing gear and videos of the people and legends of the tracks.
Bring the whole family to the event this year, you won't be disappointed. You can't pay enough for the smiles on your family member's faces.  This is one event everyone will enjoy.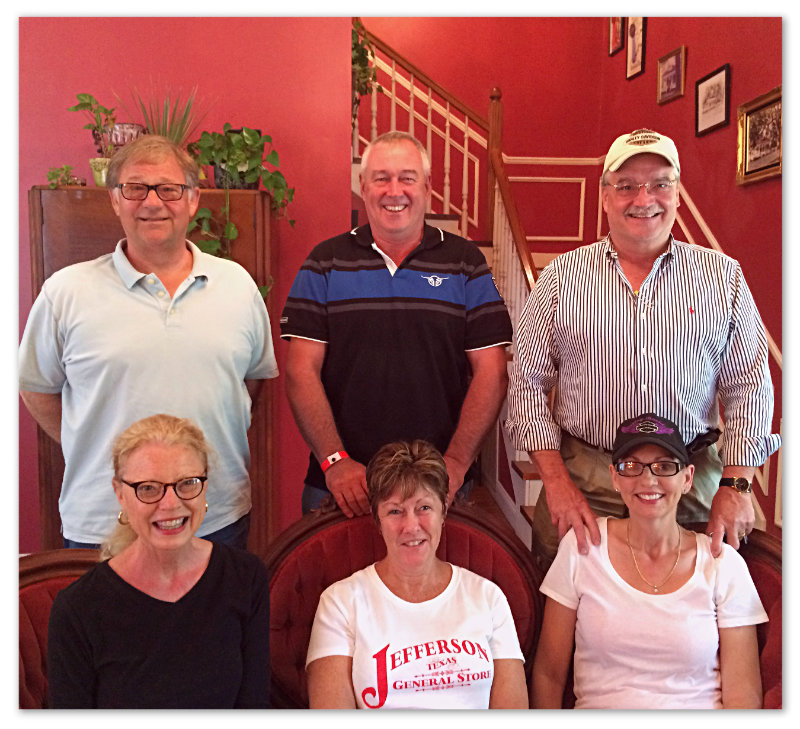 Last year we have guests at our bed and breakfast that were from Australia, Texas and Arkansas. Every morning at breakfast the conversations were so fun and spirited. It was like they were old lifelong friends. In fact the guests from Arkansas and Texas were. But when the stories were floating in the air, all our guests had so much in common with each other it was uncanny, coming from other countries. Meeting here and then going out to the races, racing and having fun in Jefferson Texas is a priceless experience.
Back to the racing:
The weekend will be full of motocross legends, including at least seven inductees to the Motorcycle Hall of Fame.  Here is your chance to visit with and race against some of your idols: Steve Wise, Marty Tripes, Brad Lackey, Jim Gibson, Trampas Parker, Trey Jorski, Scott Burnworth, Doug Dubach, and Guy Cooper.
Trey Jorski will headline this year's event as Diamond Don's Legend for the weekend. Jorski is still an avid racer and enjoys riding in different off-road races.  He won the 40+ Expert TCCRA Cross Country title twice. He is a former AMA national #54 and 49 in the early 70's and was 10 overall in the 500cc Supercross class in 1976.
Ticket: 1 day, $15 – 2 days $30 –  3 days, $40 –  4 days $50  –  Children under 16, free
Thursday, April 16:  Gates open at 8:00 am, locked at midnight
Charity Fishing Tournament in the Critter Ponds – with many of the legends of Motocross.
Wes Willis, Fishing Chairman, assisted by Gary Davis
Registration 9:00 am; Kick-off 10:00 am; lunch & beverages provided by the Diamond Girls.
$75 entry fee – net proceeds benefit Jefferson Railway & Wetlands Foundation and the steam train restoration fund, a 501(c)3 non-profit
Trophies and great prizes.  – Fish Whisperer Trophy – overall champion
Other trophies for Most Caught , Biggest Caught , Biggest Diamond Don BS Story  & Dead-Ass Last Award.
Fish Fry for contestants, following the tournament – eat whatcha caught!  All the fixings and beverages included in your registration fee.
Cross Country Sign-up, approx. 3:00 pm – 5:00 pm
Friday, April 17:  Gates open 6:00 am; Gates locked at midnight
AHRMA Trials:  Sign-up at 8:00 am; start time 9:00 am (over at noon-this is a timed event)
Diamond-Huffman Trials Modern Support Class sponsored by Jay Huffman, Huffman Restorations, running concurrently during AHRMA Trials – this is a post entry race only.  You cannot pre-register through AHRMA.
Cross Country:  Sign-up 9 am till 11:00; Rider meeting at noon. Sighting lap, all riders, at 12:30 pm.
Vintage Race at 1:00 pm; Post Vintage race at 3:00 pm
Saturday VMX Sign-up approx. 3:00 pm – 5:00 pm
Evening approx 6:30 – BBQ Meet & Greet, Raffle Drawing for door prizes (Private party for racers and family only)
6:00pm-8:00pm Lane Rodgers, and his One Man Band. Classic Rock, Country and More.
Saturday, April 18:  Gates open 6:00 am; Gates locked at midnight
Vintage:  sign-up at 7 am; mandatory rider's meeting, 8:30; practice at 9:00; racing at 10:00
10:00 Invocation led by Steve Wise; National Anthem sung by Chicago Jerry;
Marty Tripes 100cc Works Revenge "Rumble on the River"  (This is not the 100cc AHRMA class)
Separate sign up at Marty's rig. Last Practice only.  These bikes cannot run with the AHRMA entrants.  Moto 1 during half-time break; Moto 2 last race
PVMX Sign-up after VMX finishes, approx. 4:00 pm – 6:00 pm
Raffle Drawing for Door Prizes at Trophy Presentation
Saturday Evening:  Best Tailgate Party
Sunday, April 19:  Gates open at 6:00 am
7:30 Church Service: Steve Wise, Christ Ministry; and Roy Jenkins,
Chaplain, announcer, journalist and author
Post Vintage:  sign-up at 7:00 am; mandatory rider's meeting, 8:30; practice at 9:00; racing at 10:00
10:00 Invocation led by Steve Wise; National Anthem sung by Chicago Jerry
Marty Tripes 100cc Works Revenge "Rumble on the River" (This is not the 100cc AHRMA class)
Separate sign up at Marty's rig.  Last Practice only.  These bikes cannot run with the AHRMA entrants
Moto 1 first race of the day; Moto 2 during half-time break
Wine-down Party after trophy presentation with fantastic fireworks show and five authentic cannons – stay the night and relax before the trek home.  Raffle drawing for bike and shotgun. (You don't have to be present to win.)  Trophy will be presented for Best Tailgate Party of the weekend. (Private party for racers and family only)
Is there any other activity occurring at your event while AHRMA is there?
•    Shuttle bus rides between track and town on Friday, Saturday and Sunday  (included in gate pass)
•    Steam Train Rides on Saturday at 2:30, 4:30 and 8:00
•    Ladies – Shop 'til you Drop contest.  Cash prize for "best shopper".  Who can out-shop the EZ Jim Bultaco Ladies?  They have won five years in a row!  Shop and support our sponsors.
•    MX Photography will be on-site with same day photos; Kenny Lau with Awesome Shots will be onsite, too.
•    Legends & Heros Motocross Museum
Pre-Register or find out more information at www.diamonddon.com