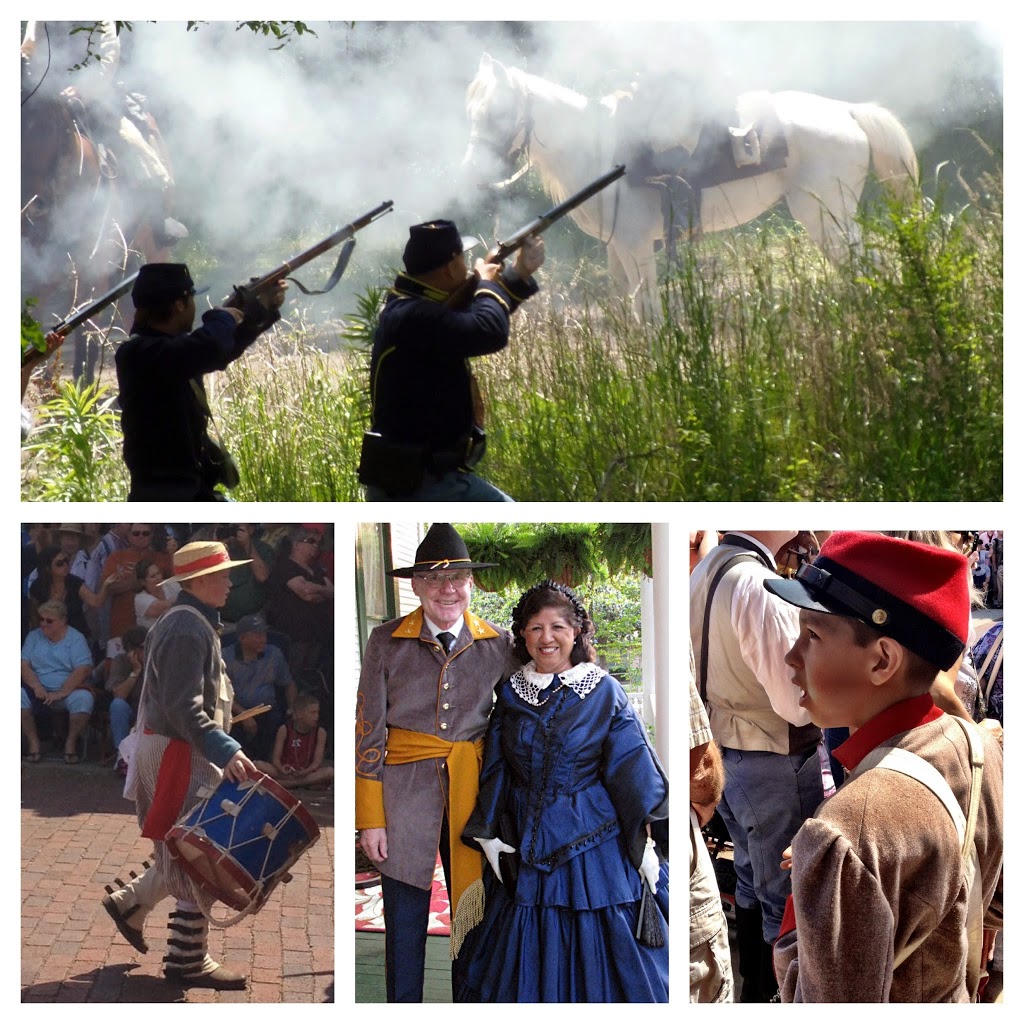 This May 1-4, 2014 changes are afoot. Jefferson's 67th Annual Pilgrimage and Civil War Re-enactments weekend has some exciting new events and some changes to the usual festivities.
In the past tours of historic homes were the norm; this year five of our historic churches are opening their doors for tours. It's an exciting change of pace. You see those iconic steeples around town, but have you ever gone into one of the churches? Now is the time to see all the unique stained glass, pulpits and rows of benches that you have been curious about for so long.
Other new things to do while in Jefferson Texas this year are a Naval Battle viewed aboard the historic railroad cars of the train. Seated aboard the train you will experience the Andrews Raid and then stop to view the guns ablaze from both the land and the water while canons fire from the gunboat and troops defend the land all around the train. Each ride will stop to watch the battle; you are right in the middle or the foray. There is no other civil war battle quite like this that I've ever heard about.
The street dance on Friday May 2, 2014 downtown is also a first; historic attire is encouraged but not required. Everyone is invited and welcome.
All of the other events around town that you have come to love during the weekend are still going to be here too so get in your car and come on over for the day or the whole weekend you won't be disappointed.
Be sure to click "Read More" to see the list of the whole weekend's schedule.
60th Annual Diamond Bessie Murder Trial
Thursday May 1 at 7:30 PM – Friday May 2 at 7:30 PM – Saturday May 3 at 5:30 PM & 8:30 PM
Sunday May 4 at 2:00 PM Performances are at the Jefferson Playhouse on the corner of N. Market and W. Henderson St. Tickets $20 Call to reserve your seats 903-665-6075
Living History Day
Friday May 2, 2014
A Day of Learning for school groups, sponsored by the Marion County Chamber of Commerce.
The Living History Camps will demonstrate Camp Life and Military Activities and include a train ride aboard the Historic Jefferson Railway as the story of The Andrews Raid unfolds alongside the Big Cypress Bayou. Complete with a gunboat and cannons, the train departs from Diamond Don RV Park on Friday at 9:30 AM – 11:30 AM  and 1:30 PM Special Price for Living History is $3 per student; train ride is $5 per student.
The Oakwood Cemetery Illumination
Friday May 2nd from 7:30 to 10 PM
Street Dance
Friday May 2nd at 9 PM to 11 PM downtown in front of The Excelsior House  (Free Admission)
67th Annual Pilgrimage Tour of Historic Churches
Friday May 2 and Saturday May 3, 2014 beginning at 11 AM to 4 PM
Tickets are $20 Adults and Children 12 and under $3.00 available for purchase at the Pilgrimage headquarters; The Excelsior House 903-665-2513 or 800-490-7270
Twilight Garden Stroll
Friday May 3rd and Saturday May 4th from 5:30 PM until 7 PM. Stroll through some of the finest yards and gardens in Jefferson.
Sutler's Emporium
Friday May 2nd thru Sunday May 4th on Dallas Street in downtown Jefferson
Craft Fair – Heirloom Plant Sale
Friday May 2nd and Saturday May 3rd from 9 AM to 5 PM and Sunday May 4th from 9 AM to 3PM At the William Perry Park downtown Jefferson
Quilt and Heritage Fiber Arts show
Friday May 2nd and Saturday May 3rd from 9 AM to 5 PM View stitched, woven and hooked items from the past and present.  At the Jeffersonian Institute building
Parade and Town Skirmish
Saturday May 3rd at 10 AM downtown, usually the re-enactment skirmish is downtown immediately following the parade right on Austin St. DON'T leave downtown before the skirmish!!

Naval Battle of Port Jefferson a river and land Re-enactment
Saturday May 3rd train begins at 11:30 AM – 12:30 PM – 1:30 PM – 6:30 PM
Sunday May 4th Narrated Day Tour:  11:30 Ticket price is $15 plus tax; lap children under 4, FREE.
Ride an antique narrow-gauge train and experience the story of The Andrews Raid, the Civil War's most gripping railroad story. Soldiers from the North and South re-enacting the Great Locomotive Chase and new this year the Naval Battle of Port Jefferson; complete with cannons and gunboat join the battle making it the largest naval Civil War Re-enactment West of the Mississippi.
Battle for Jefferson a field Re-enactment
Saturday May 3rd at 4 PM and Sunday May 4th at 1:30 PM – Tickets price $10 each
Battle will take place at Cypress River Ranch located 3 mi. west of downtown Jefferson on F.M. 2208; for more information call 903-200-5787 or 866-319-5470
Buffet Luncheon at the Excelsior House
Saturday May 3rd from 11:30 AM to 2 PM tickets are $14 each. Reservations recommended 903-665-2513 or 800-490-7270
Ladies Tea
Saturday May 3rd from 1- 3 PM Program "Lady Spies for the Confederacy" Period Dress Encouraged. At the Jeffersonian Institute 120 W. Austin
Muskets & Magnolias Ball
Saturday May 3rd at 8 PM Period Dress or Black Tie; Tickets are $15each or $25 a couple
At the Jeffersonian Institute 120 E. Austin

Jefferson Guard Presentation of Colors Re-enactment
Sunday May 4th at 10 AM in front of the Christ Episcopal Church, 703 S. Main St across from Lions Park (Admission is FREE)
Written by: Tammy & Dave Doriot