2014 marks the 25th Anniversary of the Krewe of Hebe's Mardi Gras festival in Jefferson Texas. And it is going to be spectacular; the theme this year is fittingly the Silver Screen. We're anticipating all kinds of costumes and floats decorated in all the glitz and glory of that time.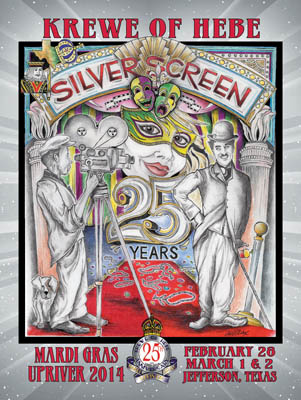 Without further ado, here is the line-up for February 28 and March 1 & 2, 2014.
February 28, 2014
DOO DAH PARADE – 7:00 p.m.
Doo Dah Theme: "Light Up the Night"
Wild, wacky and zany parade where everyone is invited to dress in the craziest Mardi Gras costume and join in the parade. Revelers begin at Lion's Park; and weave their way throughout downtown and arrive at the Main Stage for the Alley Dance. – For more info contact: Betsy or Becca 903-238-1145
After the parade everyone usually gathers downtown from 7 p.m. – 10 p.m. at the Main Stage, the band has yet to be determined.
Saturday March 1, 2014
LIVE MUSIC ALL DAY
11:00 a.m. – 2:00 p.m…….. Main Stage
MICHAEL HIX
For the past 13 years, Michael has been entertaining audiences all across the country. He is a pop-rock and adult contemporary singer, producer, actor and emcee. His moves are smooth, his wit is charming, and his presence is humble. From radio, stage, television and motion pictures, he can do it ALL. Michael is the definition of entertainer.
1:45 p.m. The Motorcycle Parade begins. Followed by the Grand Parade at 2:00 p.m. To get a great spot you had better get downtown at about 1:30 p.m.
3:00 p.m. – 6:00 p.m……………….Main Stage
RAY WYLIE HUBBARD
Ray is a Texas music treasure, a revered songwriter & performance legend, and an acknowledged forerunner in the Progressive Country movement of the 70's. During that period his song "Up Against the Wall Redneck Mother"; became a college campus anthem. His enduring career has spanned over 40 years, with the evolvement of 16 albums leading to recent national acclaim and prominent public appearances including "Late Night with David Letterman".
4:30 p.m. – 5:00 p.m……….Main Stage……….. Awards Ceremony
7:00 p.m. – 10:00 p.m…………. Main Stage
BEATLES TRIBUTE BAND Me and My Monkey
They are a must-see attraction featured in three evening performances. A tribute to the early Beatles' years featuring Sergeant Pepper and Abbey Road.
Sunday March 2, 2014
12:00 p.m. – 4:00 p.m………. Main Stage………BAND TBA
Beginning at 2:00 p.m. is the Children's Parade
Don't let the name fool you though, there are usually many of the floats flowing down the streets one more time just for fun.
CHILDREN'S ACTIVITIES and the Otstott Park by the Gazebo
Join in the fun with Children's Costume Contest, Ugly Dog Contest, Pet Look Alike and Best Pet Costume Contest. Contact: Roger Opiela phone: 903-742-9800
Starting at 3:00 p.m………..Children's Activities – Awards Ceremony
For more information please visit the Mardi Gras Upriver Website.
Written by: Tammy & Dave Doriot