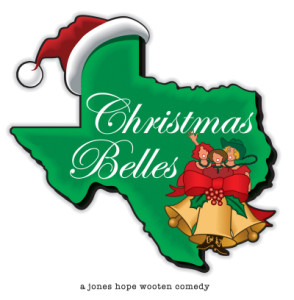 It's Christmas-time in a small Texas town!
November 14-15-16-17 and again 21 & 22, 2013 the East Texas Performing Arts group will be performing Christmas Belle's by Jones, Hope and Wooten. Picture just about any small town in Texas, heck it could even be Jefferson. While we travel along with the hilarious holiday journey through a misadventure-filled Christmas Eve, guaranteed to bring joy to your world!
The Futrelle Sisters are not exactly in a festive mood. A cranky Frankie is weeks overdue with her second set of twins. Twink, recently jilted and bitter about it, is in jail for inadvertently burning down half the town. And hot-flash-suffering Honey Raye is desperately trying to keep the Tabernacle of the Lamb's Christmas Program from spiraling into chaos.

The celebrity guest Santa Claus is passing a kidney stone. One of the shepherds refuses to watch over his flock by night without pulling his little red wagon behind him. And everyone is dropping like flies due to a Pancake Supper food poisoning outbreak. A family secret slips out that has been carefully guarded for decades and all hope for a successful Christmas program seems lost, even with an Elvis impersonator at the manger.
Don't miss you chance to see all the fabulously talented actors and actresses in the live performance of Christmas Belles. Sarah is an outstanding director and the cast will be having you laughing out loud the whole time I'm sure of it.
We still have rooms available for your lodging in Jefferson Texas at the White Oak Manor Bed and Breakfast.
Performances are set for 7:30PM nightly and on Sunday at 2:30PM
Buy your $20 advanced tickets at etxpa.org while they last.
Written by: Tammy & Dave Doriot