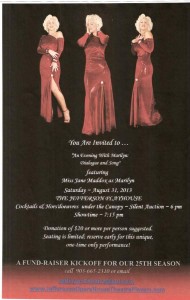 Saturday August 31, 2013 The Opera House Theatre Players present "An Evening With Marilyn: Dialogue and Song".
Staring Miss Jane Maddox as Marilyn.
The event is the Jefferson Community Theatre's kick off party and show to their 25th Season of performing here in Jefferson Texas. One of the biggest accomplishments of the group is that they have never had a permanent home for the shows they produce. That has never stopped them from putting on some spectacular shows around town.
Join the party at the beautiful old Jefferson Playhouse. Cocktails and Hors'deouvres and the Silent Auction at 6:00 PM under the canopy. Showtime begins at 7:15PM
Seating is limited so call 903-665-2310 for your reservations today.
Suggested donation of $20 or more
You can find more information at the Opera House Theatre Players website.
Tammy & Dave Doriot