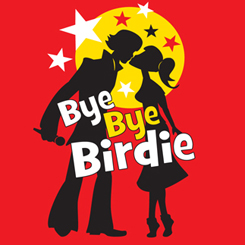 The East Texas Performing Arts present the Tony award winning musical Bye Bye Birdie. Performances are the weekends of July 13-14 and the 18-19-20, 2013 at the Jefferson Visitor Center.
Sara Whitaker is the director and choreographer with the musical direction by Paul and Stacey Davis.
The 1960's classic BYE BYE BIRDIE the musical; tells the story of an Elvis Presley type rock and roll singer who wears his hair in a pompadour and thick sideburns on his face. He is about to leave for the army. Conrad Birdie, the singer wears gaudy gold costumes and speaks in a rugged voice. His agent, Albert Peterson is a pleasant mild mannered young man. Albert's faithful secretary (and love interest) Rose Alvarez keeps him and Birdie moving forward in the world. Rosie concocts one final national publicity plan before Conrad heads of to the military. Conrad (Birdie) will give a real kiss to a lucky girl from his fan club on the Ed Sullivan. Kim MacAfee in Sweet Apple, Ohio wins the honor. Her whole world and hometown are thrown into a whirl.

Tickets are $17 and available at the door or from one of these shops in Jefferson Texas -Lafayette Gallery (123 N. Polk) – Roys Rails (602 N. Polk) – Fashion & Art Revival (115 E. Austin) or online at easttexasperformingarts.org
Showtimes:
Saturday July 13 at 7:30 pm
Sunday July 14 at 2 pm
Thursday July 18 at 7:30 pm
Friday July 19 at 7:30 pm
Saturday July 20 at 2 pm and the finale at 7:30 pm
For more information, email info@ETXPA.org or call 925-366-7360.
Book your room reservation at the White Oak Manor B&B for the weekend early, that way you can also take advantage of some of the many other fun things to do in Jefferson Texas.
Tammy & Dave Doriot