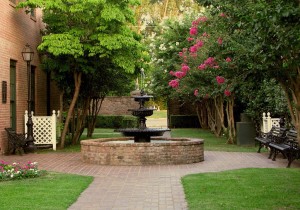 Every Spring Jefferson welcomes visitors from all over to the Annual Historical Pilgrimage and the Battle of Port Jefferson. The whole town prepares for these events, they are some of the biggest for the entire year and I can't imagine why they wouldn't be, the spring air is delightful for walking and touring all day.
We have the Jessie Allen Wise Garden Club and the Marion County Chamber of Commerce to thank for coordinating and putting on these events. It is a huge undertaking to get everything working cohesively and they do a beautiful job.  While you're in town please take a moment to tell them thank you and let them know how they're doing.
Of note this year some of the actors in the Diamond Bessie Murder Trial Play have changed, there is a new defending lawyer and playing the part of the sexy Isabella Gouldy is her daughter. So if you haven't seen the play in a couple of years now is the time to snatch up a ticket or two for a whole new show. Call now 903-665-6075
I am listing all the events here so you won't miss anything. Please click the "Read More" button to see it all.

Thursday May 2, 2013
7:30 p.m.  Diamond Bessie Murder Trial Play at the Jefferson Playhouse Tickets $20. On the corner of Market St. and Henderson St. Call for tickets 903-665-6075
Friday May 3, 2013
9:00 a.m. –   2:00 p.m. Living History Day
9:00 a.m. – 5:00 p.m. Craft Fair and Heirloom Plant Sale in the park next to the Excelsior House Hotel
9:00 a.m. – 5:00 p.m. Quilts and Heritage Fiber Arts at the Jefferson Visitors Center 305 E. Austin St.
10:00 a.m. – 4:00 p.m. Tour the Atalanta, Jay Gould's private rail car $5
10:00 a.m. – 6:00 p.m. Registration of Reactors, Civilians & Horses at Chamber of Commerce 101 N. Polk
10:00 a.m. – 6:00 p.m. Reenactment & Ball Ticket Sales at Chamber of Commerce 101 N. Polk
11:00 a.m. – 4:00 p.m. Pilgrimage: Tour of Homes – Tickets $20 at the Excelsior House Hotel or the Chamber of Commerce
5:30 p.m. – 7:00 p.m. Twilight Garden Stroll Locations around town
7:30 p.m.  Diamond Bessie Murder Trial at the Jefferson Playhouse
Saturday May 4, 2013
8:00 a.m. –   9:30 a.m. Registration of Reenactors, Civilians & Horses – Chamber of Commerce 101 N. Polk
8:00 a.m. Jefferson Farmers Market at First National Bank parking lot.
8:30 a.m. – 11:30 p.m. Reenactors' Shuttles are available from town to the battlefield
9:00 a.m. – 10:00 a.m. Parade line-up  at Lions Park
9:00 a.m. – 5:00 p.m. Craft Fair and Heirloom Plant Sale in the park next to the Excelsior House Hotel
9:00 a.m. – 5:00 p.m. Quilts and Heritage Fiber Arts at the Jefferson Visitors Center 305 E. Austin St.
10:00 a.m.–11:30 a.m. Parade  downtown Jefferson
10:00 a.m. – 4:00 p.m. Tour the Atalanta, Jay Gould's private rail car $5
11:00 a.m. – 4:00 p.m. Tour of Homes
11:30 a.m. – 2:00 p.m. Luncheon Buffet at the Excelsior House Hotel- $14 reservations recommended
12:30 pm. 2:30 pm 6:30 pm The Great Locomotive Chase – The Andrews Raid at The Historic Jefferson Railway
1:00 – 3:00 p.m. 1864 Ladies Tea at The Cork Yard; Period dress encouraged
4:00 p.m.  The Battle of Port Jefferson held at the Historic Jefferson Railway Diamond Don's RV Park 1602 State Hwy 49E
5:00 p.m. – 6:00 p.m. Encampments Open to Public at the Battlefield & around Downtown Jefferson
5:30 p.m. – 7:00 p.m. Twilight Garden Stroll Locations around town
6:00 p.m. Re-enactor – Civilian Dinner held at the Battlefield
8:00 p.m. – 11:00 p.m. Southern Heritage Grand Ball Period Attire Required  –  1850 Historical CVA Building downtown.
5:30 & 8:30 p.m. Diamond Bessie Murder Trial Play
Sunday May 5, 2013
9:00 a.m. – 3:00 p.m. Craft Fair and Heirloom Plant Sale in the park next to the Excelsior House Hotel
10:00 a.m. – 11:00 a.m. Presentation of Colors Reenactment-Reception; Period Attire Encouraged Christy Episcopal Church 703 S. Main St. by Lions Park
11:30 a.m. The Great Locomotive Chase – The Andrews Raid at the Historic Jefferson Railway
1:30 p.m.  The Battle of Port Jefferson held at the Historic Jefferson Railway Diamond Don's RV Park 1602 State Hwy 49E
2:00 p.m. Diamond Bessie Murder Trial Play
Tammy & Dave Doriot