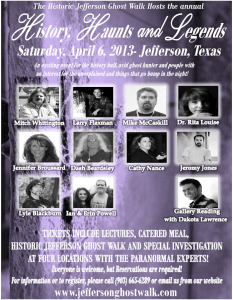 Twice a year Jodi the hostess of the Historic Jefferson TX Ghost Walk tour brings a very special group to town for a day of lectures featuring our history. Including the legends of the area and of course tales of the hauntings and ghosts of Jefferson Texas.
If you are a ghost enthusiast you will want to be here for this full day of ghoulish excitement.

The tickets offered are: VIP TICKET are $75 including lectures, catered meal, historic Jefferson Ghost walk and special investigations at four locations in Jefferson Texas with paranormal experts.
DAY only tickets are $35
NIGHT only tickets are $40.
There are a limited number of NIGHT TIME ONLY TICKETS.
You'll want to purchase your VIP tickets on Jeffersonghostwalk.com website.
Tammy & Dave Doriot