Recently the KnightLight Theater in Jefferson Texas opened the doors once again for something different. In March they will be showing movies and dinner for an all-inclusive price.
This development is really an attraction like none other in town.
One of the best things about this new venture is that you may BYOB and enjoy a movie night out with family and friends in the comfort of a lovely theater without going very far.
Who's ready for a Movie Night?


There will be three nights of shows starting with Thursday – Date night movie only for $5, Friday – Dessert, Drink and movie for $10, then on Saturday evening you'll be served the dinner selection of the night which includes the meal, salad, dessert and soda or coffee to drink. Or bring your own wine to paire with the meal. Including the movie the price for Saturday night is only $20 per person. (Each week will be a different meal so check the KnightLight Theater for the planned meal.)
Dinner is served on Saturdays at 6:45PM and the movie all nights starts at 7:30PM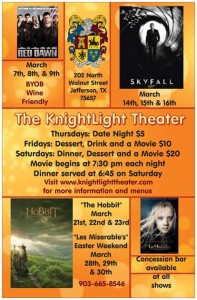 This month they are showing:
March 7, 8 & 9, 2013 Red Dawn
March 14, 15 & 16, 2013 Skyfall
March 21, 22 & 23, 2013 The Hobbit
March 28, 29 & 30, 2013 Les Miserable's
We highly recommend that you call them at 903-665-8546 to reserve your seat for the show, we have a feeling this is going to become very popular very quickly.
Tammy & Dave Doriot