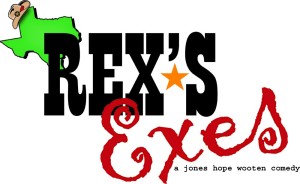 The Sanctuary Players of Jefferson Texas does it again!
If you saw the Red Velvet Cake War you may remember just how funny it was, you won't want to miss this newest play. Many of the same actors will be playing the same funny, lovable characters. You'll find this hilariously dysfunctional family at it again.
In Rex's Exes we'll find Gaynelle dreading an upcoming BIG birthday, Jimmie Wyvette trying to become successful in a new business venture and Peaches possibly being haunted by her dead husband.

And lest we forget Aunt LaMerle, you remember her, she bought all the red food coloring so she could win the war. Well LaMerle is at it again trying to crash the elite group the Daughters of the Nation of Texas.
The play is scheduled for:
Saturday March 16-7:30PM and Sunday March 17-2:30 PM
Friday March 22-7:30PM, Saturday March 23-2PM and 7:30PM
Tickets are $16.00 per person and may be pre-purchased online at SanctuaryPlayers.org
All performances will be at the Jefferson Visitors Center.
The shows sold out quickly last year, we encourage you to buy your tickets early.
Tammy & Dave Doriot