Last night we went out to dinner at the newly opened restaurant in Jefferson. The Memories & More Restaurant and Piano Bar was just opened last weekend, it was very busy so waited a week to get in.
So last evening when David said, "hey, let's go try the new restaurant", I jumped at the chance. Oh boy, am I glad we went because the food was delicious.
From the moment you open the door you know it's going to be an experience. When you walk in, the first thing you notice is the appealing piano area set up with colorful live plants then your eye is drawn to the nice flowing ceiling decor and the black linens on the tables. I also noticed the waitresses all dressed stylishly in black with white-lace tops, a very nice touch. We didn't have reservations when we walked in which wasn't a problem since we went just before the dinner hour but for the future I would suggest that you call 903-665-8203 for reservations just to be sure you can get in. I suspect they are going to be very popular.
We ordered the crab stuffed mushrooms appetizer, David had the shrimp Angels on Horseback and I devoured the 8oz. rib eye steak. Everything we ate was delicious; we will certainly have to go back so we can try everything else on the menu.
Oh, I almost forgot to mention dessert, even though our tummies were stuffed to the brim I just had to order a dessert to bring home for later. I am so glad I did, YUM!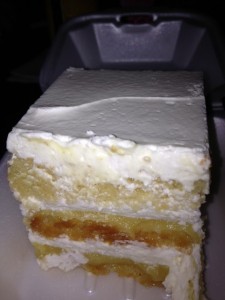 Luscious Layered Lemon Cake.
Memories & More Restaurant & Piano Bar is now open Thursday, Friday and Saturday starting at 11 am for lunch, serving Steaks and Seafood with wine and full bar available. Located downtown Jefferson, TX at 121 W. Austin St, phone # 903-665-8203 or email memmore@att.net
November-2012
Tammy & Dave Doriot
Innkeepers
White Oak Manor bed and breakfast, LLC