Update as of August 28, 2012- "Hank Williams Remembered" will now be showing at the Ruth Lester Memorial Playhouse on Saturday, September 1st at 7:30. 208 Henderson Street in Jefferson, TX 75657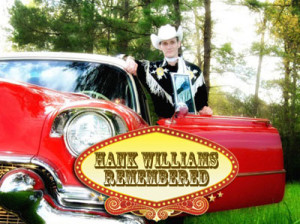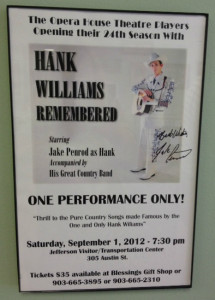 Hank Williams Remembered, that is! On the evening of Saturday September 1, 2012 come to Jefferson Texas for the one performance of Jake Penrod as "Hank" and his great country band. The show will be at Jeffersons Visitor & Transportation Center building at 7:30 PM.
Jake has earned the label "the reincarnation of Hank Williams" and not just based on his voice. He is tall and thin and he dresses western; vintage western, with flashy shirts, boots and a cowboy hat. His face is thin with high-set Cherokee cheekbones so he not only sounds like Hank; he looks like Hank.
This is your chance to enjoy a concert listening to his country sound in a relaxed atmosphere. Tickets can be purchased at Blessings Gift Shop on Polk St. downtown or call 903-665-3895 or 903-665-2310
Visit Jake Penrod's website for more information about this wonderfully talented young man.
Tammy & Dave Doriot
Innkeepers
White Oak Manor bed and breakfast, LLC