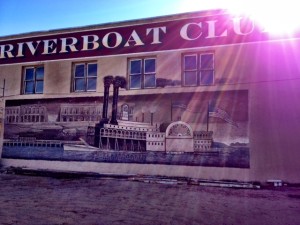 Progress on the new mural as of March 4, 2012
One of Jefferson Texas' most documented tragedies was the sinking of the Mittie Stephens Steamboat. The Mittie Stephens was built in Madison, IN as a troop and transport boat for the Federal forces in 1862. This year marks a 150 year anniversary for this distinguished boat. I find it very appropriate that when the bar and restaurant Auntie Skinners Riverboat Club decided to use this boat as the star of a new mural they have commissioned for the side of their building a beautiful tribute to the Steamboat and the lives that were lost so many years ago.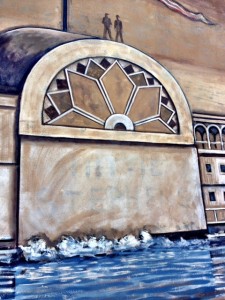 You can almost see the name of Mittie Stephens.
Originally built for use on the lower Missouri River, was converted into a passenger and cargo vessel after the War Between the States. During the War, the Mittie Stephens was illegally seized by the Union Forces and served to carry dispatches, troops, and supplies in the Red River campaign. In peacetime, she plied the Mississippi before becoming a New Orleans-to-Jefferson packet. It operated between New Orleans, Shreve's Port, Mooring's Port, Louisiana and Jefferson, Texas. On February 11, 1869 at 4 o'clock in the afternoon, the Mittie Stephens left Shreve's Port chartered by John K. Rives, which resulted in being its final voyage.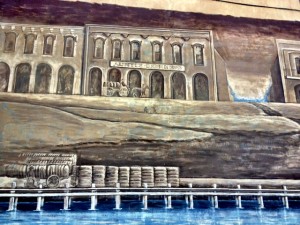 Do you see Auntie Skinners?
I just love this mural and have been trying to document its progress since I first saw it. This may seem strange to some but to me it is just one more reason Jefferson Texas is such a special town. The people here embrace the past and try to keep it as historic as possible which in our ever changing world is a blessing.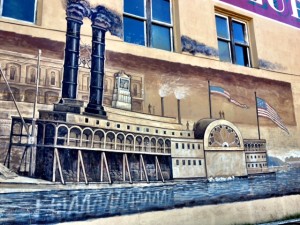 The artist is even capturing people on the boat beautifully.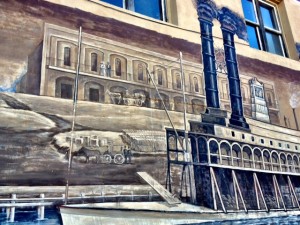 I'm in awe of the details that are really starting to pop to life.
So the next time you're in town staying the night at our Jefferson Texas B & B be sure to stop by the corner of W. Austin and Polk street and see this lovely mural depicting another time in this place on the river. I hope this mural greets visitors to town for many years to come. And you must visit our local Museum to see the ship's bell from the Mittie Stephens.
I am anxious to see the final product!