February is the month we all know has a happy holiday called Valentine's. There are so many ways to celebrate this holiday. For instance our Jefferson Texas bed and breakfast celebrates all month long.
There are so many ways to celebrate your love for each other it just takes a little creative thought. One of my favorite stories was really creative I can't help but share.
We had a young lady show up for her reservation, when we asked if she needed help unpacking she politely said no and that her husband would be showing up later. Then she told us what she had done! She left a note for her husband on the table with driving instructions to a restaurant; there she left a note to drive to the next place where another note was waiting for him. As she drove ahead of him she would text him directions to the next place which had a note for him. I really enjoyed hearing her tell the tale and seeing her face light up thinking about this little devilish journey she had sent him on. I will never forget this story.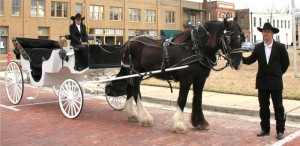 Jefferson Texas Carriage Rides
While the creative juices are flowing how about a trip to a cozy bed and breakfast in Jefferson, TX for the weekend getaway and a romantic carriage ride around town knowing that neither of you will have to lift a finger to clean or cook the whole time. Create a memory that lasts a lifetime. If you'd like an extra special wow factor we'd be happy to put together a bouquet and chocolate package just for the occasion waiting in the room upon your arrival; all you need do is ask.
Here's another idea; pack your bags and hide them in the car, don't tell the other where you're going. Hit the road and keep the destination a secret enjoy the journey together.
The point is it doesn't really take a lot of money to make an impression on the one you love; it is really about a little thought and creativity. Whatever you do, spend the time together laughing and loving each other.
Happy Valentine's Day!