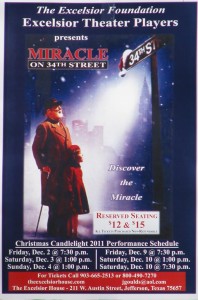 Christmas in many small towns are a special time for all ages and Jefferson Texas is no different. When you come to Jefferson you'll find quite a few family fun things to do.
Christmas plays are always a huge hit. There's something about sitting in a theater experiencing a live performance that brings a smile to your face that's hard erase. This year's play is the classic the Miracle on 34th Street.
Friday 12/2/11 at 7:30 PM, Saturday 12/3/11 at 1 PM and Sunday 12/4/11 at 1 PM.
Friday 12/9/11 at 7:30 PM, Saturday 12/10/11 at 1 PM and 7:30 PM.
Reserved seating $12 and $15
For more information visit one of Jefferson Texas' Oldest Hotels site featuring the Excelsior Theater Players.
For tickets call 903-665-2513.
Location: 209 W. Henderson
Don't miss this or any of the fun old fashion activities during this special time of year, book your Jefferson Texas Hotel room today.