Restaurants are the life blood of any town and I'm so happy that here in Jefferson, TX we have some really delicious options for any foodie to enjoy. Our bed and breakfast in Jefferson Texas is just a few blocks from almost all of them so whether you decide to walk or drive to any of them, you might like directions.
So with that in mind I made a map to share with our guests this past week of the locations of the restaurants, this way you can get directions quickly and easily.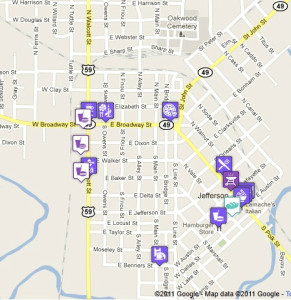 While visiting Jefferson be sure to  visit one of the restaurants close by to find out all that our town has to offer.
Even we haven't had a chance to visit them all yet but the lunches and dinners we have enjoyed so far were wonderful. This week we ate at Austin Street Bistro.
Visit my
map
for directions.