East Texas Travel Packages at White Oak Manor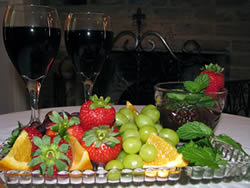 Because we understand that time away together is precious, we have put together a few special packages to make planning easier. At the White Oak Manor, we strive to make your getaway a special occasion any day of the week. Let us take on some of the worry, so you can relax and know that everything is taken care of for you.
Thank you for hunting down the code for a discount on your coming reservation. You did a great job. Now call us 903-665-8185 and tell us this code StaySmall2020 when you book your stay with us May 1 thru August 31, 2020
Plan a Girlfriends Getaway in Texas
[Read Details…]
BFF-Best Friends Forever Getaway
Gather your BFFs for an all-girls getaway. Just think…no one to answer to, no beds to make, no meals to prepare, and no dishes to wash. We're here to do all of these things and much more for you! Visit us in the Piney Woods to unwind and relax with your best girlfriends. Enjoy an evening including a cheese and fruit plate, wine and a carriage ride around the historic neighborhood for $125.00 plus your room choice (Weekends Only) To exchange massages for carriage ride, please add $60.00 to the package.(Please book these packages at least 2 weeks in advance) Or you're welcome to just relax and catch up with best friends. You deserve it because it's all about best friends and the memories you share.
Celebrate with a Romantic Getaway in East Texas
[Read Details…]
Romance Package
We understand that a romantic getaway or a long honeymoon doesn't always fit into your schedule. Let us take care of all the details for your one-night Romantic getaway starting at $250 + tax.  The package includes your room of choice for one night plus:
A complimentary chilled bottle of wine or sparkling juice
2 commemorative White Oak Manor Wine glasses to take home
A bouquet of fresh seasonal flowers
And breakfast for 2 delivered to your room
Each room is specially priced for a mid week stay. When booking click the Romance Package.
Special Occasion Package
[Read Details…]
Show a special someone that you really care. Whether it's a birthday, anniversary, or a romantic getaway for just the two of you, it should be celebrated. That's why were here! We'd be happy to customize one of our special packages specifically for you.
Contact us
to discuss special plans and pricing.