Everywhere you look in Jefferson, you will find many Antique Shops and Boutiques all decorated for the Holiday Season.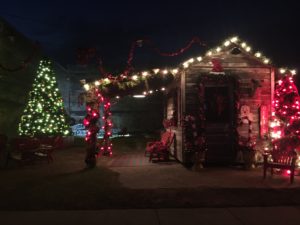 Thanksgiving weekend is the Christmas Parade starting at 6pm on Saturday Nov. 28th. The Parade will wind it's way through downtown to end at the Lion's Park for the annual Tree lighting ceremony where we will enjoy caroling and the finale will be the over 100 Christmas trees lit up for the season.
Annual Jefferson Candlelight Tour of Homes®
Days and Time of Tours:
Thursday, Dec. 3rd : 3pm – 7pm
Friday, Dec. 4th:  4pm – 8pm
Saturday Dec. 5th: 4pm – 8pm
Thursday, Dec. 10th: 3pm – 7pm
Friday, Dec. 11th: 4pm – 8pm
Saturday, Dec. 12th: 4pm – 8pm
Tickets can be purchased online https://jeffersoncandlelight.com/
Santa will be spotted all over town.
4th Annual Jefferson Wassail Walk – Dec 5, 2020
1:00PM-7:00PM over 15 businesses will be participating this year. You will enjoy this one.
Christmas Express (gas powered antique locomotive)
Saturdays throughout the season.
Narrated Day Trains will depart at 12:30 and 2:30
Make this a Christmas to remember aboard the Christmas Express Train. The ride aboard an antique narrow-gauge gas locomotive departs each day at 12:30 and 2:30. Passengers will enjoy vignettes along the Cypress Bayou River as they hear the story of Christmas Across America.
more info: 866-398-2038
info@JeffersonRailway.com
www.JeffersonRailway.com
Many more things to do in Jefferson Texas can be found at https://visitjeffersontexas.com/