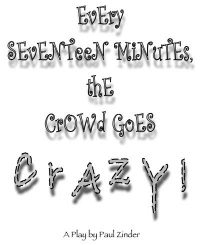 Jefferson's Sanctuary Players presents Every Seventeen Minutes the Crowd Goes CRAZY!
By the Pulitzer Prize winning author Paul Zindel is directed by Sara Whitaker. If this play is anything like the characters that Sara brought to life during her last play of "The Red Velvet Cake War" you are in for a very lively time.
The humorously poignant play about a family of eight children and how they deal with the sudden abandonment of their parents. This play sounds very interesting; I bet you'll leave the theater glad you came to experience the very talented young actors who you'll be seeing on stage.
I did find this description of the play; "A family of exuberant and startled kids are left to fend for themselves by their mother and father-who have taken off to pursue forever a life of betting at trotter racetracks and playing blackjack in Native American casinos!"
The play will be at Fellowship Hall-508 S. Line St, Jefferson Texas
Show times:
June 16-7:30PM
June 17-2:00PM
June 22-7:30PM
June 23-2:00PM & 7:30PM
And during Jefferson's first Theatre Festival, August 4 and 11, 2012 – Showtimes to be determined.
Advance tickets may be purchased online directly from the Sanctuary Players website. Or buy tickets at Fashion & Art Revival-115 E. Austin St. OR at Roy's Toys and Trains-114 N. Walnut St.