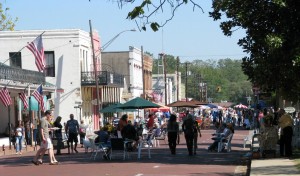 Jefferson, TX Annual Taste of Jefferson.
This past weekend we ventured to the downtown area for the annual "Taste of Jefferson" sponsored by the Marion Co. Chamber of Commerce. Both locals and out of town visitors took to the streets to try the best food our Jefferson Texas restaurants have to offer. We were delighted to taste dishes from businesses we had not had a chance to try yet. And some delicious offerings from the restaurants we hadn't tried on our last visit.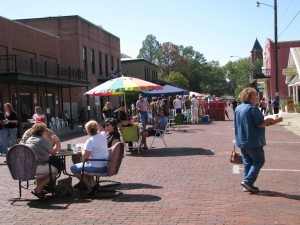 Food-Food Glorious Food! Photo by Tammy Doriot
All the businesses set up nice tables all up and down Austin Street on even had a grill and cooked right there on the street.
Even the dining areas were a feast for the eyes. Other local shops set up really appealing areas to sit and enjoy the day. There were yard decorations and willow chairs set up for sitting on, umbrellas to escape the warm sunshine and even a DJ playing lively music during the event.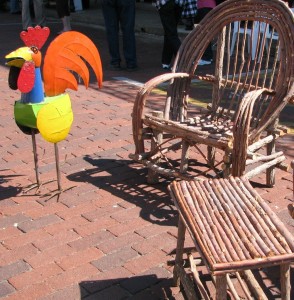 Really liked the colorful Rooster yard art. Photo by Tammy Doriot
We walked to the booth in the middle paid our $10 each picked up our plates and something to drink and decided to start in the middle.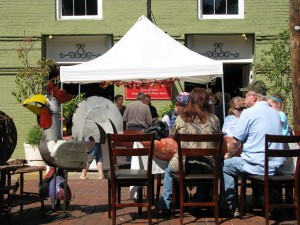 People really enjoying the food and fellowships on a beautiful afternoon. Photo by Tammy Doriot
Be sure to plan for this event next year you won't be disappointed. If you're staying at our Jefferson Texas bed and breakfast let us know and we'll try not to over stuff you at breakfast…Not making any promises but we'll try because we really think you should at least try some of the great food Jefferson has to offer.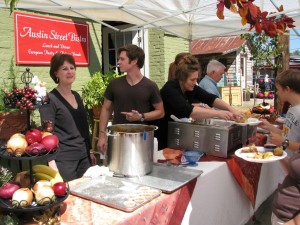 Austin Street Bistro. Soup was my favorite! Photo by Tammy Doriot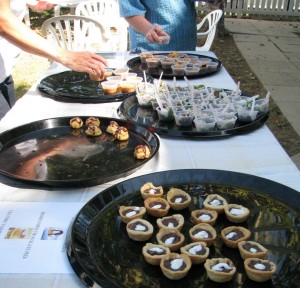 The Black Swan had all kinds of goodies to try. Photo by Tammy Doriot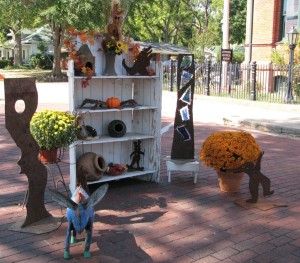 I love the pretty fall feel this display offers. Photo by Tammy Doriot
Come to Jefferson Texas for a real small town fall weekend, there's always something going on around town.