Every year in November when the air is a little crisper it's time for the Trammels Trace reenactment. During this Texas tourist attraction you can rough it out in a tent or in an RV for the weekend but if you're not into roughing it our Jefferson, TX bed and breakfast is only a few miles from the location. This event is held at the Cypress Bayou RV Park east on Hwy 49 toward Smithland. The RV park is one mile on the right.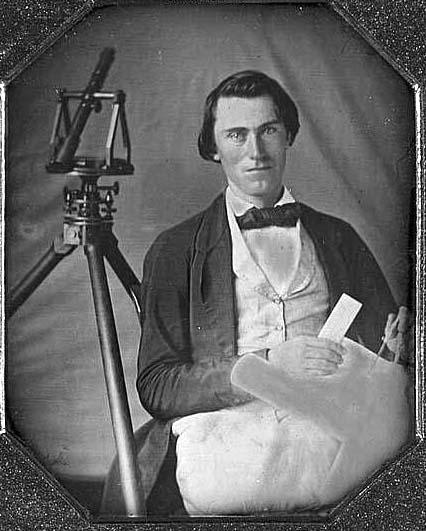 1840's Surveyor-picture from www.old-picture.com
A bit about a "Trace"; Traces began as foot paths used by the Indians to mark their trails through wilderness areas. They later were used by surveyors in mapping early land grants.
In 1824 Nicholas Trammel (1780-1852), a government scout, began opening up the trace that now bears his name. Trammel's Trace was, for many years, an important route of immigration into Texas. Approximately 180 miles long, it began at Fulton, Arkansas, and continued to Nacogdoches, Texas. Trammel's Trace entered Marion County on its northern boundary and left the county about 3.5 miles south of Jefferson. You have to envision this territory with no settlements at that time; just woods, natives, wild animals and the bayou.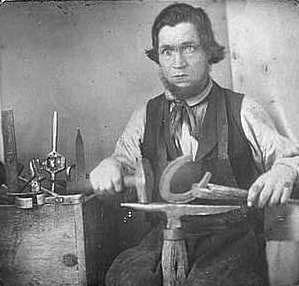 1840's Blacksmith-picture from www.old-picture.com
The weekend of November 11-12, 2011 the area comes alive with days of Learning. You'll become enchanted by demonstrations of Blacksmithing, tomahawk & knife throwing, primitive fire starting, tipi making, basket weaving, Dutch oven cooking, muzzle loading, flint knapping, pottery, drums, crafts and much more. Indians, Mountain Men and Trappers all gather by the banks of the Big Cypress Bayou to swap goods, tell stories and celebrate survival of the mid 1800's.

Today while traveling on Highway 59 outside of Jefferson, Texas you'll find the Trammel's Trace Historical Marker located at Latitude & Longitude: 32° 44′ 12.99662000016″, -94° 20′ 47.81434999992″
While visiting our Texas tourist attractions be sure to take a Steam Engine train ride over at Historic Jefferson Railway. For more information about the events, vendors, crafters and artisans visit the Trammels Trace site.